The New York and Boston-based rock power trio, lespecial, carve its own path in contemporary rock music, veering from hip-hop to metal, prog to house, pensive indie-rock to apocalyptic dub… and yet somehow still present a unified musical vision. These three childhood friends from Connecticut play off of a lifetime of shared experience in their writing and performance. In a power trio, it's essential that each of the players can utterly captivate you at any given time. Each individual has a lot of weight to carry and is only as strong as the weakest link. In the studio, as on stage, it seems at first blush that Jon Grusauskas—delivering lyrics that call for your attention and seamlessly moving from guitar to keys to samples—is handling the entire upper end of the spectrum… until you consider how broad the melodic embrace of rhythmatist Rory Dolan and low-end wizard Luke Bemand: injecting splashes of color and wicked chops into their heavy groove foundations or driving assaults, this dynamic battery simultaneously eases and propels lespecial through fractious changes of mood and tempo.
The band's fearless pursuit of a synthesis of the musical idioms that inspire them has, thus far, culminated with the release of their second album, cheen, on October 31, 2017. Pole vaulting over traditional genres, cheen is a snapshot of a band flexing their remarkable creative muscles. In a traditional sense, cheen is a risky album: it asks the listener to suspend a categorical approach and dig into their own eclectic unconsciousness, to adapt a phrase, and appreciate the flow of the record from start to finish, as it moves guided by an unseen plan. If there is an underlying thematic structure, it is one that is anchored—musically and lyrically—by horror flicks, 1980s video games and lespecial's indictment of the current cultural state of affairs. Not overtly political, angry or morose, cheen seems to observe the zeitgeist and respond to it. lespecial's willingness to take this risk of presenting an album full of flavors and feels is a reflection of the respect they have for their fans, present, and future: they simply don't underestimate the listener, and that itself is refreshing.
Never willing to sit back and settle into a groove, lespecial pivoted quickly from touring in support of the release of cheen into a whole new format: collaborating with and supporting the iconic Bay Area hip-hop emcee and producer, Zion I, on tour dates and a forthcoming album. There are also plans to release remixes of cheen tracks from some of their producer friends who hold lespecial in the highest esteem.
Rogue Chimp
This original band, founded by brothers, Jacob and Zach Cole has evolved into a killer quartet with the addition of Mark Woodyatt and Jon Ventre.
Playing the drum set from the age of 7, Jacob shows his ability to provide metrically stimulating grooves. He received a bachelors degree from Berklee College of Music, where he studied drum set and world percussion. He has studied with Zakir Hussain, Jamey Haddad, Glen Velez, Mike Mangini, Skip Hadden, Kim Plainfield, Adam Deitch, and Billy Martin from MMW.
Zach also born into music has played with various Scranton based bands and other ensembles. His catchy songwriting and atmospheric synth lines are the backbones of the band.
Mark Woodyatt's captivating electric violin playing sets us apart from the crowd! Performing for over 28years, his talent at jazz improv. and passion for electronic, world, folk and fusion music have influenced his sound, a Rogue Chimp. Mark's emotive, lyrical playing paints a soulful picture, creating a cinematic story that transcends words. His skills as a producer, composer, and skillful keyboardist can also be heard on our most-recent live and recorded materials.
The final piece of the pie Jon Ventre, a Scranton native and the newest member of Rogue Chimp, has been playing professionally around the world with various groups for the last 5 years. Finally settling back in the NEPA is now officially a part of the band, using his experience and monster chops to enhance every aspect of the groove that Rogue Chimp has to offer.
Chimp has supported acts such as Lotus and Conspirator and has played festivals all over the Northeast.
Influences range from a wide variety of styles and musicians such as: The New Deal, The Mahavishnu Orchestra, The Cinematic Orchestra, MMW, Herbie Hancock, Hiromi, The Bad Plus, Danny Elfman, Square Pusher, Primus, Parliment, Goblin, Aphex Twin, Adam Dietch, Frank Zappa, Zakir Hussain, and many more.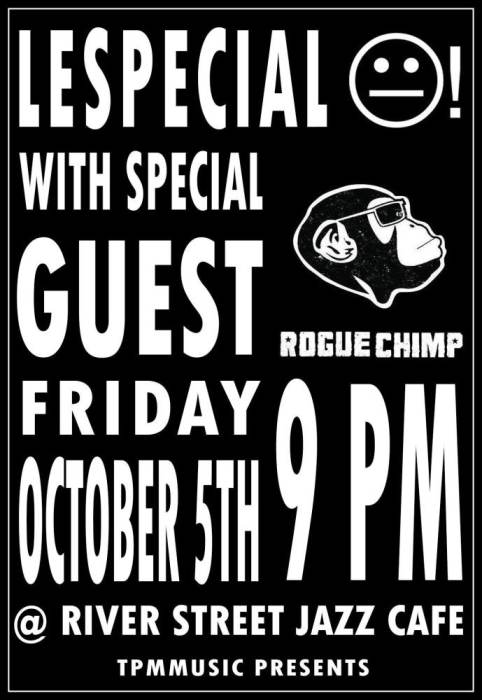 Friday
October 5, 2018
Show Start: 9:00 pm
Doors: 7:00 pm
21+ Ages
$8 ADV/ $12 DOS
Buy Tickets
Live At
The River Street Jazz Cafe